Our Fit February Challenge
As a group, in 2022 we decided that we wanted to promote a healthier workforce. As we know, many people by mid-January, fallen off the wagon and ditched the new year's resolutions already.
To keep people motivated both physically and mentally, we decided to set a challenge to get people moving more across the month of February.
Our Fit February step challenge was such a hit across all our offices last year, we decided to do it all again this year.
All 9 offices took part in the challenge, and all did brilliantly.
The winning team was Bristol who had an average of 334,626 steps per person over the month of February. Bristol will donate to a charity of their choice.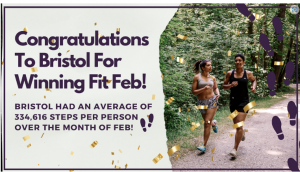 After the challenge, members of staff from across our companies were asked: 'What positive effects did Fit February have on you and your team?''
Emily Dunk, manager of our Bristol Office said 'For my team Fit Feb was sharing laughs, a bit of healthy competition and creating some good lifestyle changes that we hope will continue.'
Victoria Greenwood, manager of our Preston Office said ' We really enjoyed getting out of the office on our dinner and having a little walk. It made us feel refreshed and ready for the afternoon ahead''